Compare foreign currency exchange rates
Card Comparison
FairFX
BA Cash Passport
Post Office
Travelex(Heathrow)*
FairFX Could Save You
Non-FairFX rates updated Wednesday, March 12 2014.
* Travelex rate is the rate for reloading your Travelex Cash Passport at a Travelex airport outlet.
£1 = € EUR
1.1745
1.1583
1.1525
1.0769
€98 more per £1000
£1 = $ USD
1.6275
1.6042
1.5993
1.4972
$130 more per £1000
FairPay International Money Transfers
getting the best exchange rates when you send money abroad
Clients can now transfer money from the UK to any number of beneficiaries (family, friends and a range of commercial enterprises or organisations). The facility offers a simple, transparent and automated approach to making smaller wire transfers more efficient and convenient. Clients can transfer any amount from our minimum transfer (varies from currency to currency, from around £600) up to our maximum £50,000 and receive some of the best exchange rates on the market.
Why FairFX Travel Money Cards
Foreign Currency Exchange Rates Are So Good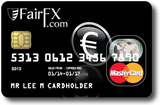 The underlying principles of the FairFX Currency Card service are price, convenience and Chip & PIN security. We cut out the middle man and use state of the art technology to execute your orders.
We provide competitively priced Euros and Dollars by eliminating expensive bureaus and kiosks—our customers benefit with great value travel money cards that offer some of the best exchange rates on market.
Order Euros and Dollars on our currency card
Get Euros and Dollars at fantastic rates by buying online and then tell us how you want to get your currency.
We offer 3 options for buying foreign currency: