The FairFX Publicity Blog

- Pound has rocketed against Australian dollar and South African rand
- Biggest rise in last year has been against the Russian ruble
- Those heading to euro countries would have obtained far better rate last week

Travellers heading to Australia, New Zealand and South Africa are now getting the best currency rates seen since the financial crisis, data compiled for This is Money reveals.
In the last 12 months alone, the pound has soared 22 per cent against the Australian dollar, giving holidaymakers far more bang for their buck Down Under, according to FairFX figures. Yesterday, travellers could get 2.173 Australian dollars to the pound, compared to 1.778 this time last year, the currency exchange specialist says.
Read the full article here.
Thursday 27 August 2015, 02:24pm

BRITISH holidaymakers heading to Europe this Bank Holiday weekend have been dealt a huge blow after the pound plummeted against the euro over the past week.
Millions of travellers heading away for the last public holiday until Christmas can now expect to get a rate of just €1.36 against sterling compared to a seven-year high of €1.44 just a month ago in mid-July.
It means that British families will see their money buy a lot less in Europe than it would have done only a couple of weeks ago.
The steep decline is in part thanks to the Chinese stock market crash, which has seen investors piling money into the euro and pushing its value up, according to exchange specialist FAIRFX.
However, British jet-setters travelling further afield will happily see cash go further in countries with higher exposure to the fallout from China's slowing economy.
Britons heading to Australia and New Zealand can now benefit from the best rate against the country's two currencies in more than seven years, found FAIRFX.
The pound is also at multi-year highs against the currencies of Thailand, Malaysia and South Africa.
Darren Kilner, currency expert at FAIRFX, said: "Unfortunately, the exchange rate for Brits buying the euro hasn't fared as well and is now well off the highs seen earlier in the year.
"However, the Chinese situation has also had a dramatic impact on the Australian and New Zealand dollar and South African Rand, so Brits who are looking to travel to these countries will benefit from some of the best currency exchange rates against the pound in years.
"With markets in chaos, keep a watchful eye on currency movements.
"Whether you need to arrange your travel money or make an international money transfer, keeping abreast of the news and currency movements is key to making sure you don't lose out when buying currency."
Travellers planning a trip abroad can sign up to rate alerts with online currency providers, which will notify users when markets rise to a level at which they are happy to buy their travel cash.
Read the full article here.
Wednesday 26 August 2015, 05:44pm
As the August bank holiday approaches, thousands of people are preparing to jet off to foreign climes for summer's last hurrah. But as you're packing your swimwear and passport, don't forget foreign currency. Figures compiled exclusively for City A.M. suggest that if you leave it until you reach the airport, you could stand to waste hundreds of pounds.
The research, by FairFX, suggested those travelling from Bristol airport should be particularly mindful of this: it's the south of England's most expensive airport, with an exchange rate of 1.1952 for euros on Monday. That means £1,000 got you €1,195 - a margin of 14 per cent on Monday's exchange rate of 1.3675.
Compare that with the South's cheapest terminal, Gatwick South, where £1,000 got you €1,308, €113 more than at Bristol.
Meanwhile, in the North, Leeds airport took a margin of 15 per cent, while Manchester was the region's cheapest - although with a 13 per cent margin, there wasn't much between the two.
Still - while this week's turbulence has given investors the heebie-jeebies, at least those flying to Australia, New Zealand, Thailand, Russia, Singapore or South Africa are set to benefit, with some of the best exchange rates in seven and a half years, the research suggested.
No such luck for those heading to Europe, where the euro isn't quite as high against sterling as it was during the depths of the Greek crisis, the research suggested we're "still getting more euros for our pounds than this time last year."
Read the full article here.
Wednesday 26 August 2015, 02:58pm

A phone or computer charger is the most commonly forgotten travel item
Those aged 16 to 24 are twice as likely to forget something than over-55s
Men and women are equally likely to leave behind an important item
Feel like you always leave behind an important item or document when heading off on holiday? You aren't the only one.
While a phone or computer charger is the most commonly forgotten item, British holidaymakers have been known to leave everything from passports to sun cream at home.
And though you may think over-55s are the most likely to forget important holiday items, it's actually those between the ages of 16 and 24 who are the worst offenders.
A recent survey from travel money website FairFX polled over 2,000 respondents. They asked Brits to reveal all of the things that they have left behind while travelling, also noting their gender, ages and region.
Read the full article here.
Monday 10 August 2015, 12:40pm

...In a separate move, Portman Travel has agreed an expanded partnership with Fair FX which will see the foreign exchange specialist provide an expense and travel cost platform for the TMC's clients and travellers. Fair FX also has a web-based system that allows clients to issue staff with pre-paid Mastercards, which can be managed online.
Adrian Parkes, Portman's chief commercial officer, said: "Our partnership with Fair FX has become stronger over the years, driven by clients' demands for greater choice in expense management. This is an ideal addition to our extensive product offering, giving clients a true end-to-end travel management offering."
Read the full article here.
Wednesday 29 July 2015, 11:04am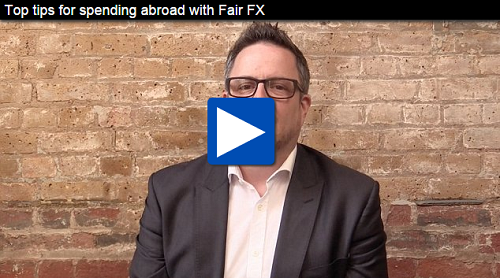 Watch the video here.
Friday 17 July 2015, 09:13am

Planning a cut-price summer holiday? Have you considered these ten destinations?
If you're willing to take a bit of a risk with your summer holiday, then there are some astonishingly good deals available on holidays to Greece at the moment. Unfortunately, if you want to cash in, you have to brave the risk of cash shortages, strikes and potential business closures. The good news is that you don't have to take this kind of risk to get a great deal this summer.
The experts at Fair FX have compiled a list of the top ten places where your money will go further than this time last year - and they have only included those places where you don't have to spend more than five hours on the plane getting there.
Read the full article here.
Friday 17 July 2015, 09:07am

The news from Greece hasn't been good recently, but where can you go instead? We take a look at the places that are getting cheaper.
Looking at prices compared with last year, and only including short-haul destinations, currency specialist FairFX worked out that Russia was the place to go for value – with your pounds buying an astonishing 50% more roubles than this time last year.
After Russia Norway (19% better value), Turkey (13% better value) and Poland (13% better) were the next best value.
Read the full article here.
Friday 17 July 2015, 09:03am
Thinking of retiring abroad? New pension freedoms mean Britons can (theoretically) transfer larger amounts of cash abroad than ever before - but what does that mean for those in the market for a home somewhere balmier?
New research by foreign currency and international transfer currency Fairfx suggests those looking to move abroad should look to New Zealand, where Britons can get 19 per cent more for their money than they could a year ago.
Next on the list is Turkey - the pound is 17 per cent stronger than it was a year ago - while in Australia, sterling will stretch 13 per cent further than it did a year ago.
But it seems UK residents keen to move abroad tend to look closer to home: the research suggested Britons tend to send cash to Eurozone countries to buy property - with a third of all transfers made to those countries aimed at paying for property.
The most popular countries to buy homes in were Spain, France, Ireland, Italy and Portugal.
"For those UK pensioners faced with low interest rates on savings accounts, buying a second home overseas may make financial sense," said Darren Kilner, a currency expert at Fairfx.
"In Europe, you'll get 13 per cent more for your money, so for example as mortgage of €200,000 a year ago would have cost £160,230 when the pound traded at €1.2482. At the exchange rate on 1 July 2015 at €1.4063 this property would cost you £142,217, meaning a saving of £18,013 on your property simply for being savvy when it comes to currency rates."
Maybe avoid Greece for now, though...
Read the full article here.
Friday 10 July 2015, 12:01pm

SCOTS holidaymakers are growing more concerned about their trips to the country - here are some answers to key questions to make sure they're not left high and dry.
...
Should I take cash to Greece?
Yes. The question is: "How much?"
FAIRFX currency expert Darren Kilner said: "Having up to £250 in cash for emergencies or day-to-day spending is reasonable under normal circumstances, but it might be wise to increase this and use a daily cash budget while Greece finds stability and the ATM situation is resolved.
"ATM withdrawal limits are still in place – even though it is said not to apply to foreign bank cards – and many ATMs are said to be empty or shut."
Official advice is to take enough cash to cover your entire holiday, but there are risks to this. Carrying large sums of cash puts you at greater risk from thieves and many insurance policies won't cover it if it's lost.
Kilner added: "Having travel insurance is a no-brainer but check the small print to see how much cash you are covered for if it gets lost or stolen. Savvy travellers will make use of their hotel safe or deposit box to store extra cash."
Read the full article here.
Wednesday 08 July 2015, 09:06am
Latest Posts
Monthly Archives
2015
2014
2013
2012
2011
2010
2009
2008
2007
Tags