In this landmark business report, the London Stock Exchange has identified 1,000 of the UK's most notable small and medium-sized enterprises.
View the full report here.
Wednesday 04 December 2013, 03:22pm

Ideal for sending money as a gift, online services for one-off payments are available as long as you're not sending huge sums of money.
Currencies Direct, for example, allows UK residents to transfer money in 25 different currencies usually within two days. Send anything from £500 up to £15,000 and you won't be charged a fee, so you'll get similar rates as if you were simply taking travel cash.
FairFX offers a similar deal, though the minimum fee-free transfer amount is £600, while Travelex is fee-free if you send more than £2,500, but below that the charge is only £7. The latter also boasts a price promise, so they'll match a competitor's quote provided you find a cheaper alternative within 30 minutes of getting your Travelex quote. All of the above have the advantage of being authorised by the Financial Conduct Authority (FCA) so your money will be protected if anything goes wrong.
For even smaller amounts, PayPal offers an instant transfer service provided both parties have an account (free to open), with no minimum amount. The sender pays a fee of 2.5% of the amount sent, while the recipient pays up to 4.9%, depending on the destination. Be aware that the transfer is instant, but it can take up to nine days for the cash to be available in the recipient's bank.
Cheaper still could be peer-to-peer money transfer system Transferwise, which allows you to send anything from £1 upwards, and the fee is just £1 on sums up to £200, and only 0.5% above that. The cash usually arrives abroad within three days.
Wednesday 04 December 2013, 03:19pm
Debit cards may be free to use in the UK, but remember it's a different story when you use them abroad. With the skiing season in full swing, it's a good time for a reminder of some of the best cards to use whilst abroad and those to avoid.
Nearly all banks will charge you a foreign loading fee for credit card cash and purchase transactions made outside the UK, typically 2.75% to 2.99%, however there are a few exceptions. Credit cards from Halifax (Clarity), Saga, Metro Bank and Post Office don't levy this fee, thus immediately saving you almost £3.00 per £100 of purchases or cash advances. On top of the usage fee, credit card cash withdrawals will typically cost you an extra 3% handling fee, so a £100 of currency from a foreign ATM can easily set you back a total of £6.
Debit cards may be free to use in the UK, but it's a different story when you use them abroad and something that people forget, until their post holiday bank statement hits the doormat.
As with credit cards there is a foreign loading charge for debit card purchases and cash withdrawals (2.75% to 2.99%) and a cash withdrawal charge typically between £1.50 and £5.00. But some debit cards also hit you with a charge for each transaction with Halifax charging £1.50, NatWest £1.25 and Lloyds £1, these can prove an expensive choice, particularly if you make a number of small value purchases. Whilst these costs don't sound much in isolation, a week on the slopes could easily set you back £30 to £50 in charges if you're using the wrong card on a frequent basis. If you're looking for a fee free debit card for whilst abroad, then take a look at Norwich & Peterborough Building Society or Metro Bank.
Another good holiday option is a prepaid currency card from the likes of Fair FX, Caxton FX or Travelex, particularly those where the card is Euro or US Dollar specific as opposed to the multicurrency options which are less competitive.
Prepaid cards are widely accepted throughout the world and a cheaper holiday companion than many of the cards from the banks and major credit card providers.
Wednesday 04 December 2013, 03:17pm

Holidaymakers can take their pounds further this winter by being savvy about currency movements, according to online currency specialist, FairFX.
Those looking for snow, slopes and skiing could look to Japan, where your pound will take you 20% further this winter than this time last year. At ¥160.93 to the pound this long haul destination could be a unique and rewarding experience on many levels.
Up next in terms of currency value is Norway (+7%) for those looking to stay a bit closer to home and guaranteed snow. On this front Canada (+6%) is also unlikely to disappoint. Russia (+5%) and Czech Republic (+2%) will provide more value for your Pound and with numerous flexible flight options from low cost carriers now available, these are increasingly popular destinations.
The southern hemisphere offers various options for those chasing the sun this winter with Argentina topping the table with 21% more value for your Pound. Travelling to Peru (+16%), South Africa (+14%), Jamaica (+13%) and Australia (+11%) will also help you stretch your holiday money in the sun.
Ian Strafford-Taylor, FairFX CEO, says: "With the pound recently outperforming many other currencies, those looking for a winter escape could cash in on some great currency deals which will be more than welcome with Christmas around the corner."
Read the full article at Property Overseas Today
Wednesday 27 November 2013, 05:03pm

Holidaymakers seeking ski resorts or winter sun can get more for their money in South America, Japan, Norway and South Africa than a year ago, data shows.
Exchange rates have improved in these three countries more than any other winter holiday destination, according to currency firm FairFX.
Japan has plenty of snow in the winter and each pound will buy 20pc more this winter than a year ago. Norway, another potential destination for skiers, is 7pc cheaper in currency terms, due to the change in value against the pound. In Canada, the pound will buy 6pc more compared with 2012 exchange rates.
Those seeking sunnier climes could try Argentina, where the pound will stretch a huge 21pc further than this time in 2012. Although the country faces perennial inflation worries, the cost of living – or holidays – is still considerably cheaper than in Britain or Europe. Currency fluctuations have followed a similar path in fellow South American hotspot Peru, where the pound buys 16pc more.
In South Africa, the British travellers are 14pc better off, while holidaymakers in Jamaica will get 13pc more for their money.
Winter tourists to Iceland were warned last week that the Icelandic government has limited the supply of krona, leaving a shortage among British currency booths. Iceland is a popular destination for those wishing to catch a glimpse of the Northern Lights.
Wednesday 27 November 2013, 05:01pm

Susana Franyutti designs jewellery and sources stones from all over the world for her business Susana Lang Ltd. Here's her trick to saving on sending money abroad: 'I buy all my diamonds from New York and my manufacturers are also based in New York, so I have to make regular payments to the States.
'I started looking around for alternatives to making payments abroad a few months ago as a family member told me about a foreign exchange brokerage service. All my transfers went through my bank at the time, but when I started looking around it became clear that I wasn't getting the best value for my money.
'For example, when I first compared my bank's US dollar rate to FairFX, which I now transfer my money through, I realised the difference was quite big - my bank was offering $1.48 and FairFX $1.54, which on typical monthly transaction value of £10,000 is significant.
Now I make regular payments abroad at larger amounts, and I even have a dedicated dealer through FairFX that keeps me abreast of beneficial rate changes and takes care of transfers at no extra cost.'
Thursday 21 November 2013, 04:37pm

If you are transferring large amounts of money, such as the proceeds of the sale of your home, it is important to shop around for the best exchange rate rather than just head straight to your bank - it could make a difference of thousands of pounds.
As Kerns points out: 'Your first port of call will usually be your UK bank, but this may not always be the best choice.
'Picking a currency specialist instead could get you a rate 3 or 4 per cent higher than your bank, as well as saving you money in transfer fees.'
For example, on a £100,000 transfer a difference of just 4 per cent would give you an additional £4,000 to play with - which will go a long way to help fund your new lifestyle abroad.
Some of the cheapest transfer rates come from FairFX FairPay, Travelex, Caxton and Moneycorp while HSBC has one of the best High Street bank deals.
Thursday 21 November 2013, 04:32pm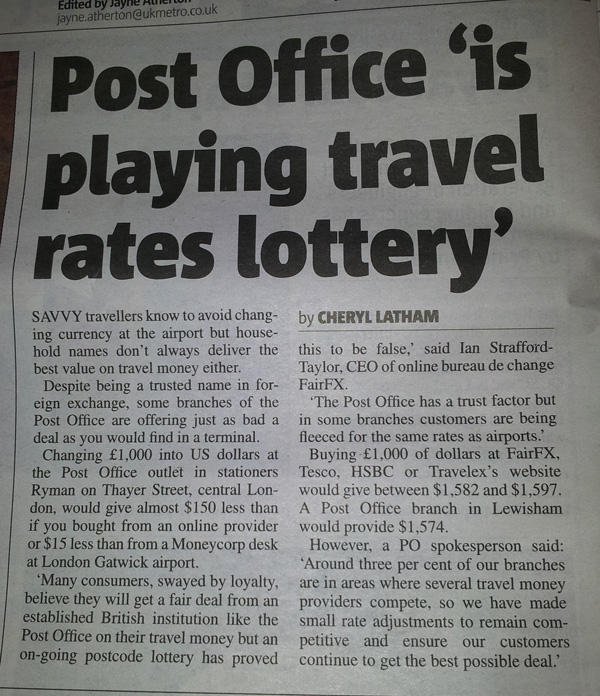 'Many customers, swayed by loyalty, believe they will get a fair deal from an established British institution like the Post Office on their travel money, but an on-going postcode lottery has proved this to be false', said Ian Strafford-Taylor, CEO of online bureau de change FairFX.

Monday 28 October 2013, 11:17am

If you send money to family or friends overseas get your calculator out! You could be paying over the odds to transfer money. The latest research shows that you could get a raw deal if you simply pop into your high street bank to send foreign payments overseas. The exchange rates and transaction fees charged by the banks all add up to confusion for customers and you could find cheaper options by doing some research.
According to Moneycomms.co.uk even though some providers claim to offer a fee-free service, the wide variation in charges on foreign currency transactions can add up to a major hidden cost. As well as the variation in exchange rates to consider, the situation is further complicated as many of the banks charge an additional fee.
Around nine out of 10 transactions are still done through the banks and the research shows there's a huge amount of money to be saved if consumers check out the deals on offer from some of the online brokers such as FairFX and Caxton FX. To give you a couple of examples from the study – if you're sending 1000 US dollars the cheapest option is FairFX and the most expensive is Western Union, with the high street names not far behind.
The difference between the cheapest and most expensive is £39.34. If you're sending 1000 euros FairFx again works out cheapest with Santander the most expensive and the difference in that case is £30.75. Again the high street financial institutions tend to appear at the more expensive end of the list. Even if you're sending a lump sum as a one-off those are fairly significant differences but imagine the savings you could make if you have a home abroad or children studying or travelling overseas and you have to send money regularly. It's worth shopping around for a better deal.
Tuesday 22 October 2013, 09:23am

New figures released this week show that high street banks' customers are getting a raw deal when it comes to sending foreign payments overseas.
The numbers show that in order to get the best deal for your money it is important to shop around, as even a small percentage difference in the exchange rate can result in considerable savings.
If you want to send some money abroad most people will automatically arrange the transaction via their current bank, but this can prove a costly mistake.
Unfortunately a lot of people are unaware that there are cheaper alternatives available and are confused by the combination of uncompetitive exchange rates and transaction fees levied by the banks. Even though some providers claim to offer a fee-free service the wide variation in the exchange rates used in foreign currency transactions often represent the major hidden cost to retail customers.
As well as looking at the exchange rate, for the man in the street the situation is further complicated as many banks charge an additional fixed fee on top.
The research highlights how much extra a consumer could pay if using their own bank to send the money overseas. The difference between the cheapest and most expensive option to send just $1,000 to the USA is more than most people realise.
The lowest cost was £631.71 courtesy of FairFX, closely followed by Caxton FX at £638.53. At the other end of the scale, the same transaction with Santander came to £670.64 and the most expensive, Western Union, charged £671.05, almost £40 more than the FairFX deal.
As a one-off transaction these sums may not sound that much. But when you consider thatpeople with property overseas or children studying and travelling abroad are transferring funds every month to cover costs, the annual savings could be in the region of £500 in some cases. It has been reported previously that up to 90 per cent of transactions are still conducted through the banks, so there is a huge amount of money to be saved if only consumers took advantage of deals from some of the new breed of online brokers such as FairFX and Caxton FX.
Next time you need to send some funds overseas remember there are other options to transfer money all over the globe that are cheaper, offer better exchange rates and give you the same level of security as banks.
Clydesdale and Yorkshire offer a Helping hand
With all the focus on the Government's latest Help to Buy initiative, it was interesting to see Clydesdale Bank and Yorkshire Bank throwing down the gauntlet with an excellent new 95 per cent LTV mortgage offer.
The interest rate for first-time buyers with a 5 per cent deposit has been chopped from 5.49 per cent to just 4.99per cent for a three-year fixed rate deal even though the bank hasn't signed up to Help to Buy. There is also no arrangement fee, plus a free valuation and £250 cashback.
With only NatWest, RBS and Halifax currently offering products via Help to Buy 2 it's good to see Clydesdale and Yorkshire grasping the nettle and going it alone without waiting for Government guarantees.
According to the latest HomeLet rental index the average rent in the UK (excluding Greater London) is £844 a month. By comparison a £100,000 mortgage at 4.99 per cent (25-year term) would cost £584 per month or £876 for a £150,000 home loan, so if tenants can get their hands on the 5 per cent stake the affordability of home ownership is now starting to make it a more realistic option.
Monday 21 October 2013, 11:00am
Latest 'Press mentions' Posts
Monthly 'Press mentions' Archives
2013
2012
2011
2010
2009
2008
2007
All Tags