Catalunya, Spain
Best known for its capital, Barcelona, Catalunya is the perfect destination for those seeking glorious sunshine, beautiful beaches and excellent gastronomy. If you are travelling to see the Grand Prix or fancy a weekend away later in the year read our quick guide for where to stay and what to do.
Catalunya's four provinces, Barcelona, Lleida, Girona and Tarragona, each offer something different to its visitors but wherever you choose to visit you are guaranteed a fascinating blend of culture.
Where to stay
If you want to stay close to the F1 track then the nearby town of Lloret de Mar is only 45 minutes from the Circuit de Catalunya. A beautiful seaside town on the Costa Brava, here you can stay in one of the many hotels lining the award-winning blue flag beaches. Rich in cultural heritage, Lloret De Mar is the ideal destination for those interested in sunbathing, whilst being close to the tracks.
If you're staying in Barcelona it takes approximately 30 minutes to travel to the Circuit de Barcelona-Catalunya.

The Circuit de Barcelona-Catalunya
Formerly know as the Circuit de Catalunya, the Circuit de Barcelona-Catalunya has hosted the Spanish Grand Prix for the last twenty-four years. Despite the familiarity, you can expect an exhilarating race as the track features some tricky high-speed corners.
The main grandstand is a popular place to watch the race, especially for those looking to be part of the pre and post-race drama. Whatever the weather, this covered grandstand will give you a great view of the pit lane exit and the rest of the track coverage using large TV screens.
Europcar (GRANDSTANDS B,C,G,H) is the place to be if you want to experience speed. Cars will be doing around 240km/h through this turn and then onto the last corner of the circuit.
Elf corner (GRANDSTANDS E, F, J, K) is one of the best places to see overtaking as it's the first corner of the circuit and followed by a long, flat stretch of track.
Renault (GRANDSTAND A) gives you a great overall view of the track, as Elf and Seat Corner are visible from here.
The Formula 1 at the Circuit de Barcelona promises to be an action-packed feast of racing. But we've got our eyes on a different feast altogether.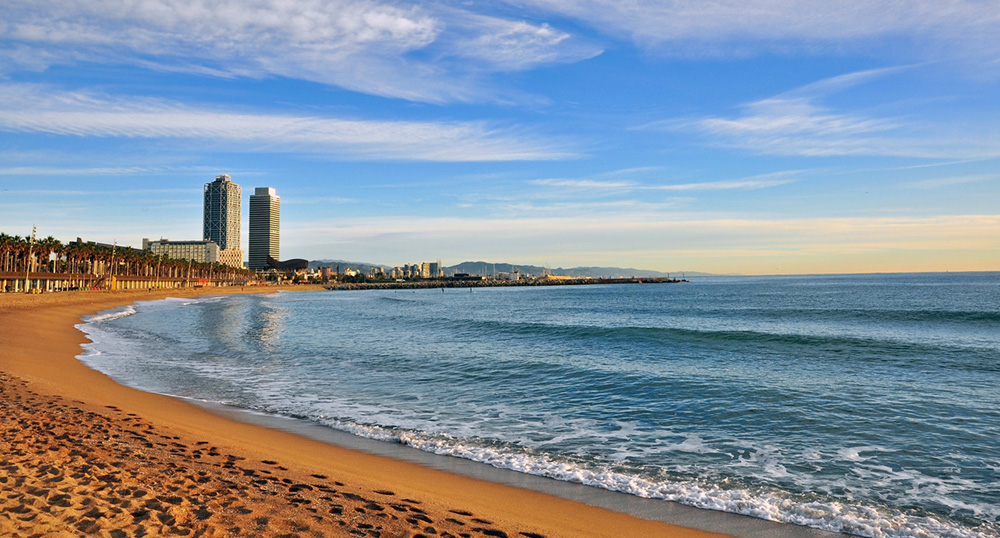 Barcelona
A mixture of both city and beach, Barcelona sits amongst a colourful backdrop of gothic architecture, beautiful landscapes and whimsical creations by renowned Catalan modernist architect, Antoni Gaudí (also known as God's Architect)!
Head to Las Ramblas to pick up well-known brands such as Zara, Pull and Bear, Massimo Dutti, DeSigual and Berska, for a lot less than you'd pay in the UK.
Once you have taken advantage of Spain's discounted brands ensure you take some time to try the tapas and sangria in one of the many bars that line this shopping hub. You can easily spend an hour or two watching the world go by as you sample the flavoursome dishes on offer. Try the Pa Amb Tomaquet which is fresh bread rubbed with tomatoes and drizzled with olive oil and salt; the Escudella, a Catalan meat stew, and Fideuas, which is similar to paella but with noodles. Finish this off with a Créme Catalan and you will realise why you need to come back to Barcelona again and again!
In the evening walk through Las Ramblas to see the street performers and living artists who offer much entertainment to tourists. From angels, to statues, to stormtroopers and everything in between you will never find another place like this.
The port is a great place to sample the local seafood and paella. Can Solé provides many of the city's classic dishes but you'll be spoilt for choice here so take some time out and try some of the restaurants along the waterfront.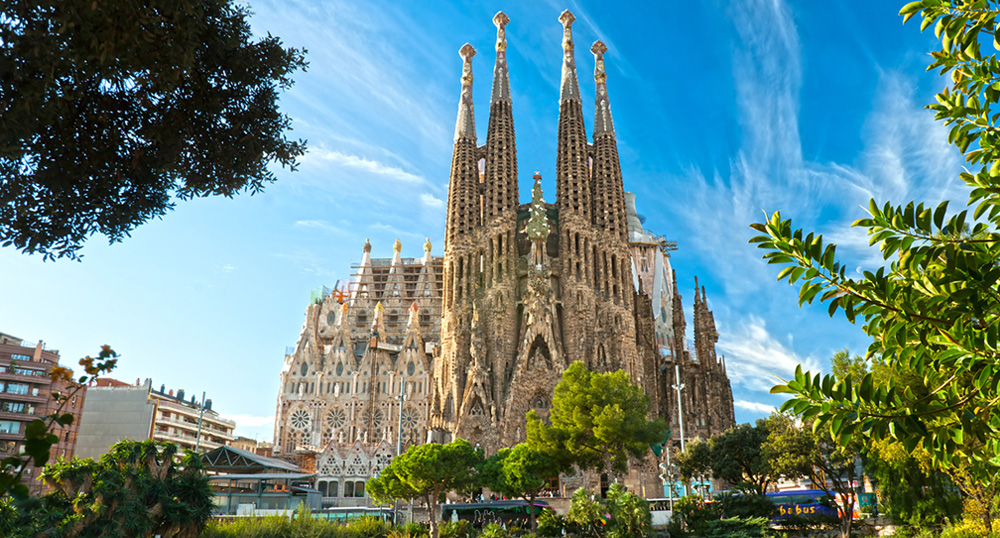 La Sagrada Familia
A vision of grandeur La Sagrada Famiília is true sightseeing material. As soon as you see the cathedral it will become clear as to why it's the most visited monument in Spain with over 3 million visitors annually. The sheer height and unbelievable detail of each of the towers is astonishing. At completion there will be 18 towers; one for each of the 12 apostles, one for each of the 8 evangelists, one representing the Virgin Mary, and the highest tower in honour of Jesus. There are also three facades, each depicting the three virtues of hope, faith and love.
Gaudí did not originally construct the Sagrada Familia, it was originally under the direction of Francisco de Paula del Villar y Lozano and only handed over to Gaudí two years later in 1883. Gaudí died before finishing the basilica and was buried in a crypt under the Sagrada Familia. After Gaudí's death, construction work was postponed and did not begin again until the late 1950s. The church is expected to be finished in 2026; one hundred years after Gaudí's death.
Climb the winding staircase (or 400 stairs to be exact!) to get a view of the city from high above the crowds. You can also get a lift halfway up the construction, then walk the rest of the way, but be warned this is not for the faint-hearted. The view is beautiful but the winding stairs are extremely narrow!
Parc Güell
Spread across 42 acres, the world's most colourful park, Parc Güell continues Antoni Gaudí's vision of modernist architecture. Originally named after Count Eusebi Güell the parks colourful designs are made from broken cava bottles, using a technique known as "trencadis".
First constructed by Gaudí from 1900-1914, the park echoes the theme of nature with brightly coloured 'gingerbread houses', a double staircase complete with ceramic dragon, mosaic chimneys and benches, offering some of the best views of the city.
The park is a dreamy environment in which its visitors can relax amongst the abstract shapes whilst being entertained by street performers and musicians. If you're visiting Barcelona make sure Parc Güell is on your list of attractions to see because you wont want to miss it.
Torre Agbar
The Torre Agbar is 465 feet tall and cost over one hundred and thirty million Euros to build. Designed by French architect Jean Novel, he has since revealed that Antoni Gaudí had inspired the modern skyscraper.
The building is best seen at night when it is lit up by thousands of LED lights. Transforming from red to blue the Torre Agbar is perhaps a glorified version of the London Gherkin, but a must see none the less!
Not able to get away to Barcelona?
Bring some Barcelona flavour to your weekend at home by cooking up some great Spanish food.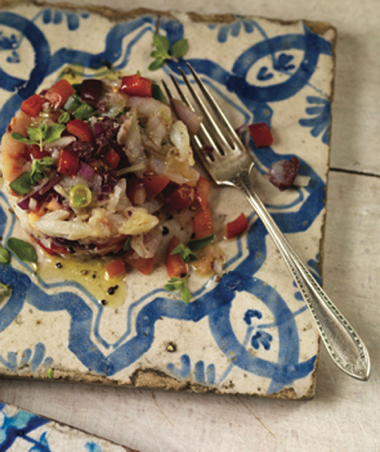 SALT COD SALAD
Referred to as esqueixada in Catalonia, Jose Pizarro uses only the highest quality fish in his delicious Salt Cod Salad. The rustic simplicity of the hand-torn salt cod flakes are perfectly married with fresh tomatoes, olives and peppers creating a plate full of colour and fresh flavours. A few glugs of extra virgin olive oil and Jose's personal addition of marjoram complete the dish.
You hardly soak the cod at all for this salad, so it is imperative that you use the best quality fish you can find. The marjoram is Jose's addition; in Catalunya you won't find herbs being used like this. You can eat the salad on its own, or as an accompaniment to grilled fish.
Serves 4

Ingredients
- 650g Salt cod
- ½ Small red onion, diced
- 1 Spring onion, chopped
- 300g Flavoursome tomatoes, chopped and seeds removed
- ¼ Green pepper, diced
- ¼ Red pepper, diced
- 20 Aragón or Kalamata black olives, pitted and chopped
- 5 Tablespoons extra virgin olive oil
- Pinch of freshly ground black pepper
- 2 Marjoram sprigs, leaves stripped

Method:
1. Remove the skin and the bones from the salt cod.
2. Break the flesh into pieces with your fingers, not a knife; you don't want straight edges, just roughly torn bits.
3. Put the salt cod into cold water for 40 minutes, changing the water three or four times. You want the fish to be a bit salty still.
4. Squeeze the salt cod between your hands to remove all the water.
5. Then, to be doubly sure, pat it dry between a couple of sheets of kitchen paper.
6. Mix all the ingredients together and the salad is ready. That's it – simplicity itself.
7. If you want to make the salad look even more attractive, use a 10 cm cookie cutter and fill it with the salt cod.
8. Carefully remove the cutter, sprinkle a few extra marjoram leaves over the top, and finish with a drizzle of olive oil.

Jose Pizzaro is an acclaimed Spanish chef who has lived in the UK for 15 years. This recipe is from his book Seasonal Spanish Food published by Kyle Books
Allergens:
Please see images attached for fish and sulphur allergens to import

Recipe provided by Kafoodle.com
Friday 08 May 2015, 11:26am

Sterling stumble avoided as Conservatives look set to provide stability.
Now that the votes are in and we have a near-confirmed majority Conservative government, there are 2 key things to watch out for in the next week which could impact consumers' pockets.
1. The outcome of the UK general election
Darren Kilner, FAIRFX currency expert said: "Now that the votes are in and a majority Conservative government seems to be on the cards this looks to be good news for consumers' and investors' pockets as the market has responded positively to continued stability in Westminster with Sterling holding strong.
"After the 2010 election, Sterling took up to three months to regain its pre-election strength and the pound continued to tumble while the coalition was formed after the election, but it looks like this has been avoided. However, the next few days will still potentially bring talks between parties and discussions on the Referendum and the impact of a huge SNP swing still needs to trickle through.
"For holidaymakers and for those going away this bank holiday weekend and over the summer, they should consider making the most of Sterling's current strength while it is still riding high on what is perceived to be positive news.
"Crucially, keep a close eye on currency rates to avoid losing out on holiday spending money should anything change as the impact of the election result becomes clearer."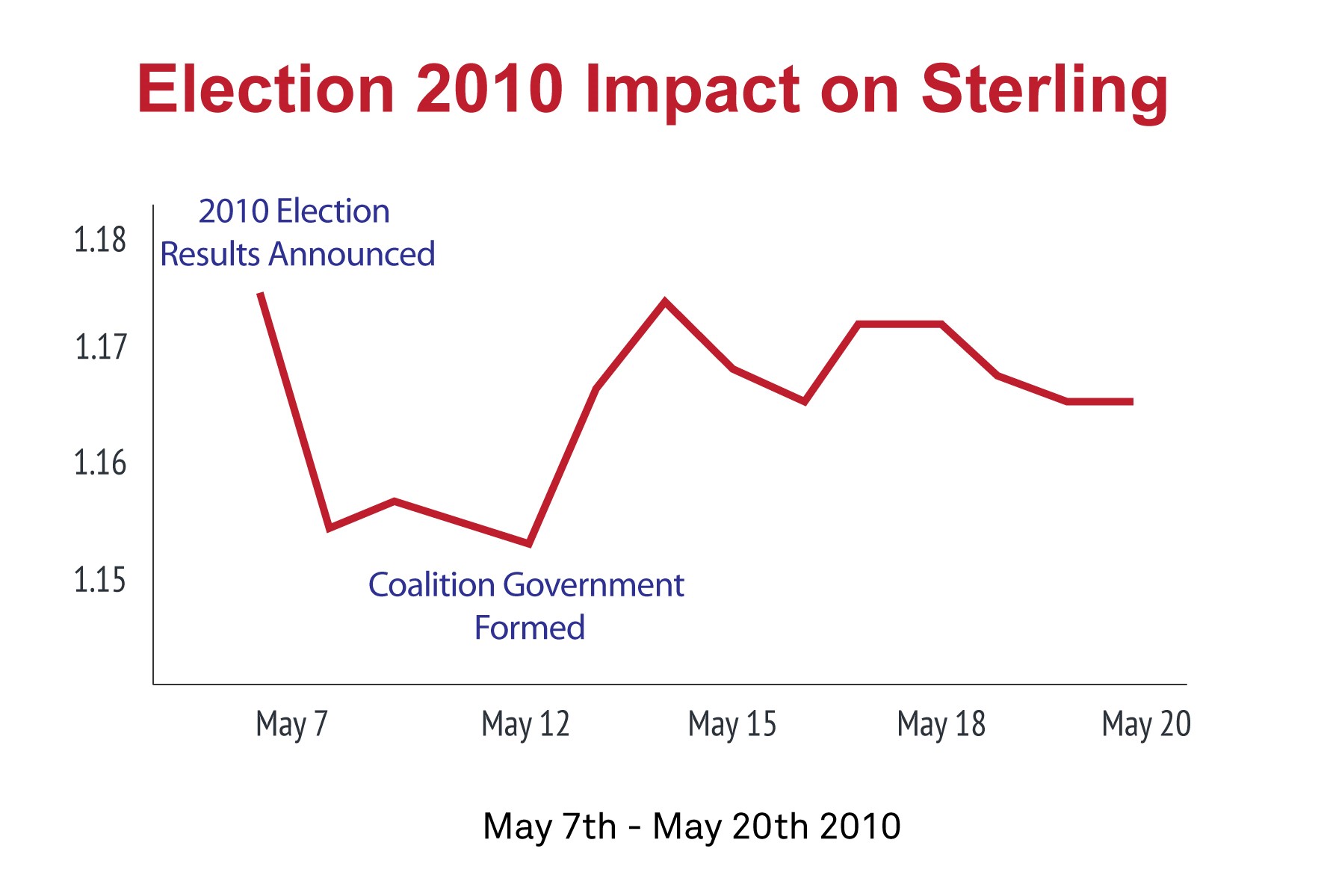 2. Greece will take the spotlight next week
"It's not just the election result at home we are contending with, economic events in Greece could also have an effect on our holiday spending money. Wednesday, May 12th marks D-Day for Greece when they are expected to repay $744.9 million to the International Monetary Fund (IMF) or risk defaulting on their loan and potentially put the country at risk of bankruptcy.
"Next week we will know if Greece has defaulted on its loan and the implications of this. The Greek Tourist Board recently issued a notice to warn holidaymakers to take Euros in cash with them when they travel to Greece in case the country decides to switch off their cash machines.
"If you are going to Greece in the coming months, there is no need to panic. We suggest planning your holiday money wisely across cash and a prepaid currency card with a credit card as backup in emergencies rather than relying on only one form of payment."
For up-to-date currency rates, visit the FAIRFX website and sign up to the Daily FAIRFX Market Report for a quick update on market activities here.

Friday 08 May 2015, 09:10am

"With the new pensions freedoms, buying a property abroad may now be a realistic dream for those in or nearing retirement. But there are some key steps to follow when buying a property overseas so it doesn't end up costing you more than it needs to. It's easy to get caught up in the excitement of choosing the location and property but often transferring money overseas to pay for the property is the last thing buyers think of and this is when you can get caught out."
"When buying a property abroad, don't leave your money transfer until the last minute. Allow yourself enough time to shop around and get the best deal. Many people make the mistake of going straight to their bank without considering other options but this is often the most expensive way to transfer money. Banks such as NatWest charge up to £30 for the transaction fee alone, then the FX fee is added on top where you could lose over £1,700 on a single transaction through HSBC when transferring £100,000*."
MAKING PAYMENTS ABROAD? ENSURE YOU AVOID THESE PITFALLS:
Transferring money overseas to buy a property doesn't have to be a complicated process. Follow these steps to avoid any last minute problems when securing your dream home overseas.
1. Compare rates on a like-for-like basis
The foreign exchange market can be very volatile with rates changing from one minute to the next. If you're looking for the best rates, remember to compare rates from suppliers at the same point in time. This can be tricky if you're comparing too many suppliers and is easier to achieve online, but try to keep it within the shortest timeframe possible otherwise the market might have moved by the time you look at provider number five.
2. Don't leave it until last minute - mitigate your risk!
If you know you're due to make a payment for your property deposit or mortgage, speak to an expert in advance to make the most of favourable exchange rates or mitigate your risk should the Pound-Euro rate go against you.
3. Insist on security and good rates!
Ensure your provider is legitimate and FCA registered, but don't be afraid to venture away from your bank to transfer the money for your property abroad. Banks have some of the highest transaction fees and poorest rates for international money transfers, so choose a provider that offers you security and good rates. FAIRFX keeps customer funds in segregated accounts for additional protection.
4. Hidden fees add up!
Before you use a money transfer service, ask about all the fees and charges involved. What is their foreign exchange fee? Do they charge a transaction fee, a "processing" fee or an "out of currency" fee. Don't get caught out by hidden fees!
*when transferring £100,000 worth of Euros on Thursday, 26 March at 4pm.
Thursday 23 April 2015, 03:56pm